10 Hindi Music Cassettes which Shaped my years of Growing Up…
April 15, 2014
By Victor Mukherjee
I'm getting a feeling that I'm sounding very preachy nowadays. Well preaching is an occupational hazard too. But to be very frank, I've been preaching since I have started being friends with younger kids (That would be from the sixth standard). Sometimes I wonder, where do all this wisdom come from, because only when I see someone in distress (especially a damsel), all the wisdom starts oozing out and it simply vanishes at the moment I need to practice it.
But that has nothing to do with this blog post. I dont intend to preach anything in this blog. I just want to talk about the importance of some music cassettes ( well we can also call those albums, but 'cassettes', the word, gives that indescribable nostalgic feeling, which is shared by at least 67% people of my generation). The time I was talking about is before Aamir Khan brought the millennium with 'Mela'. This was the time where compact disc players were not compatible with middle class Indian's pockets, two-in-ones meant something else than desserts and Phillips did much more than flashing on Ranbir Kapoors atrocious suit in the Filmfare awards.
It was that time when the music loving youth of India was introduced to Indipop, Sameer's oh-so-naughty lyrics was blown away by a fresh 'hawa ka jhonka' and somewhere in a small town on the south east coast of West Bengal, a teenager got inspired by music and shaped his life around it. This blog is about 10 such cassettes which he never parted with…

10: DHOOM : EUPHORIA
 Archies music presents, Dhoom by Euphoria. That's how the promo used to come. I first saw this album at an Archies store itself in the winters of 1998. I haven't heard a single song before that and bought the album from my hard earned (saved rather) 50 bucks to impress the salesgirl at the counter. The cassette was lying there for almost a month. Then one day I heard this particular song called 'dhoom pichuk dhoom' on ETC and realized that the time has come to put this album on trial. I did. Rest, as they, say was history.
Technically if we see, I only liked three songs of the whole album, but there's isnt any party since then where I havent sung 'Dhoom' ( Thats because it's a damn easy song to sing and impress), 'Tum' is one of my most favorite romantic songs ever and whenever 'Sha nanana' is playing anywhere, I have to hum along. 13 years later when I met Dr. Palash Sen on the sets of my show MTV Unplugged, it all came back to me. Didn't enjoy Euphoria much after that (except Maaeri, Mantra and maybe Ab na jaa), but Dhoom still remains one of my favorite album. 
9. DOLI SAJA KE RAKHNA 
In my small town, there was this small cassette shop called M.M.Electronics. There was this cute uncle there, who use to suggest new arrivals whenever I visited his shop. He used to listen to all the albums that he sold in his shop. There are times when he used to make me mix tapes of popular English music, as I couldnt afford the original ones  and didn't want to ask dad to buy me extra cassettes ( My assigned quota was 4 cassettes per month). One fine day M.M uncle asked my to try out this new album called Doli Sajake Rakhna. One look at it, and I bought it.
Reason being A.R. Rahman ( Till One 2 ka 4, I have all the albums which he produced) and Priyadarshan ( Together they had created the soundtrack of Kabhi Na Kabhi prior to this and I love the songs of that album) . Till date I swear by the songs of this album. According to me, by far, Taram Pum is Babul Supriyo's best song by far, First time heard Sreekumar singing in Hindi and he killed it with 'Kissa Hum likhenge'. But the best track of the album, according to me would be 'Bol re Sajni', Sonu at his best.
8. RISING FROM THE EAST: BALLY SAGOO
"Remixes… wait…what? what on earth is that? " Thats what my music teacher asked me when I told him that I like Bally Sagoo and his kind of music. I was intrigued by Bollywood Flashback, but when I heard this album, I was simply floored. Electronic music was an alien thing when this album came out and the remixes and even the original ones were damn good. I remember tripping over 'Noorie' and 'Dil cheez' for days. Sadly we didnt have a loop button then so the good old rewind button did all the trick. 'Teri Ankhiana' was another track which was a classic party song among my group of friends and the classic remix of 'Chura liya' was the very first song which gave me the idea of a remix for the very first time. Till now, for me, remix stands for what Bally sagoo did twenty years back, whatever came after that, were just cheap copies.
7. COLONIAL COUSINS : COLONIAL COUSINS
In the year 2011 when I was working with Lesle Lewis  for the Indian version of Coke Studio, Season 1, one of my most favorite moments would be sitting at his studio (It's called Red House) and listening to Colonial Cousin's songs live and unplugged. I remember, when he started playing Krishna, I got goosebumps. I rewind the clock 15 years back, my cousin got me this new album called 'Colonial Cousins' by Hariharan ( my most favorite singer of all time) and another guy with a guitar. I was confused, that why would Hariharan create a band with this guy, and then I heard Sa ni dha pa and my whole notion of music changed.
That was my introduction to fusion music, that was my introduction to intelligent music, that was my introduction with lesle lewis, who had the guts to create that kind of music at that time when every loudspeaker at every local function would cry 'pardesi pardesi jaana nahi' ( I so wanted to suffocate Sapna Awasthi). I also loved 'Indian Rain' and 'Feel Alright' from that album. But 'Krishna' and 'Sa ni dha pa' would always be two of the most favorite songs I grew up with. Sitting on that sofa at Red house on that day in 2011, I realized that the circle of life never fails to amuse us.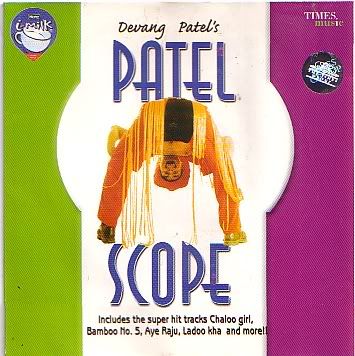 6. PATELSCOPE : DEVANG PATEL
Well, all my purist music friends would disown me after I made this choice but funnily it is one of my favorite albums. In fact Devang Patel is the person who insipred me to rhyme with anything and everything. My stupid sense of humor (some would say idiotic), my uncanny knack of cracking funny one-liners ( Some would say irritating) and my talent of word-play ( Some would say I am better at foreplay) all started when I heard Devang Patel for the first time in 'Gambler'. Patelscope, just lifted it to some other level. I remember laughing my guts out every time I hear the songs. I mean, come on, didnt you laugh the first time you heard 'Ae Raju'? didnt you fell off you chair when you heard 'Laddoo Kha'? Did Ricky Martin ever think that someone could make 'Thoka' out of 'Livin la vida loca'? That required a special person and a special album. Patelscope would be immortal in my favorite album list. Always…

5. HAI ENERGY : SUKHBIR
 
Being a Bengali boy, thats the last thing you expect from me. But trust me, a big part of my growing up is dedicated to all the Bhangra artists who played their videos on ETC channel. I used to listen to everyone. From Daler Mehandi to Babu Mann, Mika Singh to Sardool Sikander, Harbhajan Mann to Manmohan Waris. And it all started with this man, and this album; Sukhbir with his Hai Energy. I have to thank my school friend Debraj for introducing me to Sukhbir. I used to listen to Sukhbir songs at his place only. One fine day I decided to buy one Sukhbir album. The only album available at M.M. Electronics was this one, so I picked it.
My friends would say I dance very weirdly, but still at some parties, some friends follow the same steps that I do. All my weird dancing are aftermath of this album. I used to play this tape and let myself free infront of the mirror. With tracks like 'Sauda Khara khara', 'Ishq tera tadpaye', 'Hai Jane' and a bonus track of  'Gal ban gayee' from the previous album, dancing comes naturally. And I love Sukhbirs voice, because it has much more sweetness than any of the contemporary Bhangra singers. Because of this album, I felt connected to Punjabi, learned to love that language, and understand it. It's safe to say that this album indirectly got me closer to all my punjabi friends…
4. DURR: STRINGS
 I was roaming around in the newly opened Music World on Park Street, Kolkata. I had already bought a couple of cassettes by then. I had some more time to kill, so went to the music sampler and put on the headphone. There were three newly released album, one was a Bengali new release (one of the disgusting Indranil Sen remakes), second one was one of the Max 5 or 6 compilation album and the third one was this new album by a band called Strings. The track i decided to hear was a track called 'Sarki yeh pahar', it got over and i tried the next one 'durr', then 'kuchh to ho gaya', 'anjaane', 'o jaanewale' and it went on. By the time I finished the album, I was late for my class and had this album in my shopping cart. Been a fan of Strings ever since…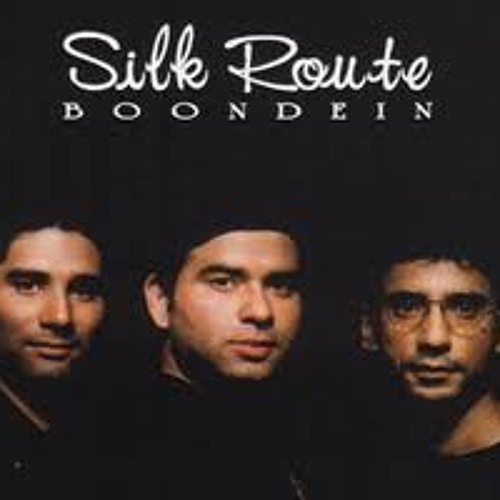 3. BOONDEIN – SILK ROUTE
 In the year 1998, my oldest cousin got married. He left for US but his wife, my sister-in-law had to wait for her visa to get cleared. So every month, once she used to come down to our place and hang out with us. She knew that my brother and I loved listening to new albums. So on my brothers birthday, she gifted him this album called Boondein and once again my perception of music changed. For the first time i heard flute playing such an important part in the alternate genre of Indian music. Mohit Chauhan's dreamy voice was trippy enough to make us hear it on repeat mode. Though 'Dooba dooba' and 'Boondein' were hot favorites, my favorite three from this album would be 'Duniya Paheli', 'Jaadugar' and 'Mermaid'.

2. FACE TO FACE: JAGJIT SINGH
 
 I didnt know what a Ghazal was, I didnt know who Jagjit Singh was, I was just a 12 year old boy who got hold of a brown colored cassette in his cousins collection and tried to play it in his two-in-one; and I just pressed the play button. When I heard it then, I was too young to understand the meaning of the songs, I just loved the voice. I bought the cassette and kept playing throughout the years. Every time I listened to it, there was something else that I liked, I figured out something new. Four or five years later, when I brushed up my Hindi by watching at least 100 films a year ( Never had Hindi in my school syllabus), I finally understood one song 'Pyar ka pehla khat'.  A few years later I understood a few more and finally, maybe ten years later I decoded all the meanings. I love all the tracks from this album, but my favorites would be 'Be sabab baat', 'Zindagi tune lahoo se', 'Jeete rehne ki saza'
1.SIFAR: LUCKY ALI
In the end, it all comes down to Sifar. Sifar is not an album. Sifar is not a compilation of 10 songs. Sifar is much more than that. Sifar is an inspiration for thousands of young Indian minds who've heard it. Sifar is a cult, Sifar is probably the best music album ever produced in India. It's exactly like Lucky Ali says "Sifar – containing nothing, it encircles everything.Without a beginning, without an end, it stretches from emptiness to infinity and back again".
For me, Sifar is my inspiration, Sifar is my aspiration, Sifar is my crying shoulder, Sifar is my bouncing bag, Sifar made me overcome fear,  Sifar is all the expressions that I've not experienced, Sifar is all the experiences that I want to get one day. Sifar is a journey which is never boring and more than anything, Sifar is hope, because it taught me that 'every journey is a new beginning'. And thats what I told Lucky Ali, when I met him for the first time.
I can go on writing a research paper about Sifar.  But I guess, I summed it all up in the last few sentences. I guess, it actually comes down to zero.
You are whatever you listen to and I believe music shapes your life. Well, that was my list of 10 favorite albums.  I'm sure at least six of these  will feature in all the peoples list who grew up in 90s. It would be great to get the list of whoever reads it. Would be a great read to know anyone's favorite albums…
We welcome your comments at letters@friedeye.com