Movie Review: Haseen Dillruba
July 9, 2021
Haseen Dillruba, uncannily reminded me of Ashutosh Gowariker's What's Your Rashee?. While there is barely anything that makes the two films similar on the surface, they are connected by the biggest flaws.
For most parts of the Gowariker film, Harman Baweja is seen bride hunting. He meets 12 different girls and has to decide on one. When he finally settles for one of the 12 matches, he justifies his decision by saying he was in love with her. Not for once was there a moment in the screenplay to suggest he was in love with the girl and that she was on his mind when he was meeting the other girls. The film collapses in the one line when Harman confesses his "beyhadh pyaar".  Haseen Dillruba goes to pretty much the same issue.
Haseen Dillruba's Rishu is an engineer working with the Jwalapur electricity board with interests in homeopathy. He is pretty much the average small-town Indian guy who is forced to go bride hunting. And interestingly, the two times he has gone bride hunting, he has fallen in love too. The first girl did not want him, but he got lucky the second time around. Now he has a beautiful wife, and he is too intimidated to try and consummate the marriage. Unsure how to deal with an assertive wife, he seeks advice from his unmarried best friend who coaches him on how to 'train' his wife to become the homemaker his parents would love. When his wife falls for his cousin instead of him, he is hurt and shows devilish intentions, while stating that he loved her too much.
Most of Rishu's character is believable. We all know the type of guy who falls in love with every girl he meets. Throwback to Saif Ali Khan from Dil Chahta Hai, and Aamir Khan's dialogue "Tera koi bharosa nahi. Aaj Pooja, kal koi dooja"! And we also know the guys who fantasize about getting a hot girlfriend but bite his tongue if he ever needs to speak to a girl he fancies. However, it is when he claims he passionately loved Rani is where the problems arise. The screenplay in no way justifies this 'love'. And this is also where the rest of the film falters because everything else is based on how much Rishu loves Rani. I could call this the "What's Your Rashee Syndrome".
And that's the tragedy. Because this one massive flaw aside, Rishu is one helluva interesting character. He is endearing, seeming less harmless and yet turned dangerous. And Vikrant Massey adds every bit of life the character needs. The skilled actor manages to bring in the madness with steely eyes when needed and disarms with his smile.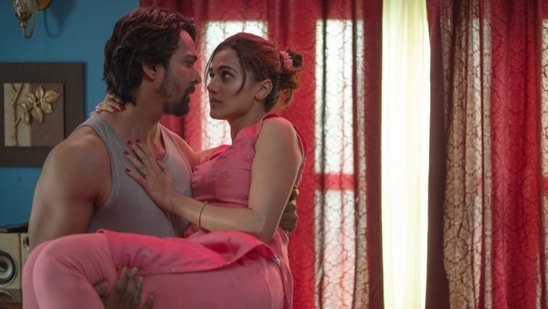 The other characters have no such flaws. Taapsee's Rani is a literature student in love with pulp crime novels written by a particular writer. And like many fiction lovers, she derives her idea of romance and love from these novels. This is funnily close to what porn did with a pizza delivery guy. And hence when Rishu's cousin Neel, with six-packs and everything else to drool over, arrives at the house for a few days Rani crushes over him like a teenager. She suddenly finds her wanting to cook, something she would never do, just to please Neel. Taapsee aces her part. Harshvadhan Rane shows promise too but is let down by the character that is as incomplete as the clothes he is made to wear. Neel is essentially used as the bait and barely anything else. He is often shirtless. He even wears a life jacket over a bare body!
Outside the pulp crime story that Haseen Dillruba aims to be, it also makes fleeting commentary on patriarchy, one how the woman is expected to be sundar, susheel and gharelu. None of that has much bearing on the story per se. You may wish there were more scenes between Rani and her in-laws, but the in-laws disappear right when the story gets going. You are unsure why they were not present when Rishu unleashes his rage.
Pitfalls aside, Haseen Dillruba does manage to entertain. It does just about what the pizza delivery boy is supposed to be. Let's just call this one a fling rather than a memorable love story.
Haseen Dillruba is available on Netflix
We welcome your comments at letters@friedeye.com